Main content starts here, tab to start navigating
Penn Quarter
Slide 1 of 5
Slide 2 of 5
Slide 3 of 5
Slide 4 of 5
Slide 5 of 5
Menus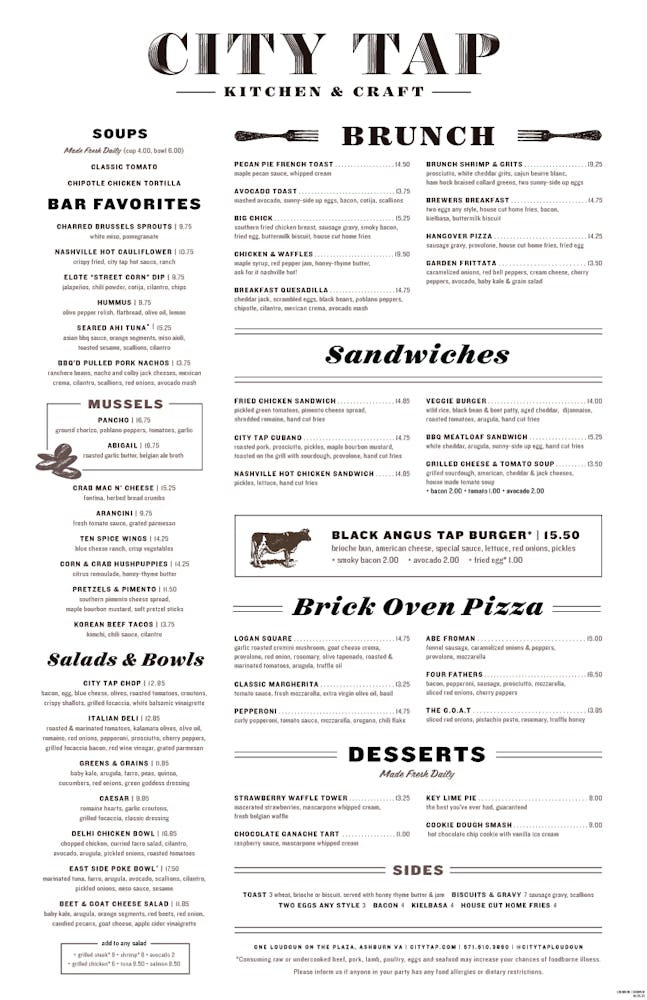 Serving brunch every Saturday and Sunday from 11 am - 3 pm.
901 9th St NW Washington, District of Columbia
Lagers
Slower fermentation brings on fuller flavors, from golden pilsner to dark doppelbock.
Blonde, Belgian & Wheat Ales
Yeast-driven, spanning from crisp, light saisons to bold, malty darks.
Pale Ales & IPA's
Hop-forward with varying degrees of bitterness & aroma.
Ciders, Meads & Fruit Beers
More than just beer for non-beer lovers, often innovative & surprising.
Sour & Wild Ales
Wild yeast strains, open fermentation, vinous natures... bring on the tart, bring on the funk.
Displaying 1 item
Amber & Brown Ales
Hops take a backseat to deep, sweet malt complexities.
Porters & Stouts
Dark, roasty malts & robust flavors.
Danzig Porter - Baltic
More Info ▸
Well-balanced, full-bodied blend of a strong English porter and a Germanic black lager. Intense mix of malts and hops, flavors of chocolate, coffee, and caramelized sugar.
Less Info ▴
Serving Sizes: 10oz Draft, 4.5oz Draft
Old Rasputin Stout - Russian Imperial
More Info ▸
In the tradition of 18th Century brewers who supplied the court of Russia's Catherine the Great. A rich, intense brew with big complex flavors and a warming finish.
Less Info ▴
Serving Sizes: 10oz Draft, 4.5oz Draft
Canadian Breakfast Stout (CBS) Stout - American Imperial / Double
More Info ▸
Canadian Breakfast Stout is an Imperial Stout brewed with a blend of coffees and imported chocolates, then aged in spent bourbon barrels that have most recently been aging pure maple syrup.
Less Info ▴
Serving Sizes: 10oz Draft, 4.5oz Draft
Displaying all 3 items
Cider(GF) and Gluten Reduced Bottles or Cans
Large Format Bottles and Rarities
Wake 'n Bake with Santa & Terrapin Beer Co. in Penn Quarter


11:00 AM EST

CALLING ALL BAKERS! We're teaming up with Terrapin Beer Co. again to host a holiday-themed event where the DMV's best amateur bakers will be invited to create sample-sized desserts using Terrapin's signature Wake 'n Bake beer. (For more information on how to join, email info@pennquarter@citytap.com.) Guests will have their sweet-tooth satisfied with a dessert tasting ($10 per person) and have the chance to crown one of the bakers as the winner. The winner's dessert creation will be featured on the City Tap/Penn Quarter dessert menu for the month of January! Feel free to bring the kiddos because there will be holiday music, snacks, activities and a visit from Old Saint Nick.
901 9th St NW
Washington, DC
Ugly Sweater Brunch @ City Tap Penn Quarter


11:00 AM EST

'Tis the most wonderful time of the year when you break out those hideous holiday sweaters and wear them while beaming with pride. This Christmas Eve, our staff will be donning their best knitted reindeer and jolly scenes to make your questionable fashion choices feel right at home. (The guest who is rocking the best one will take home a $25 gift card!) For more holiday cheer, here's what you're getting into: -$9 bottomless mimosas -Spiked cider and eggnog -Santa-themed pancakes Happy Holidays, friends!
901 9th St NW
Washington, DC