Main content starts here, tab to start navigating
Soups
Made fresh daily (cup 4.00, bowl 6.00)
Classic Tomato

Chipotle Chicken Tortilla
Bar Favorites
Charred Brussels Sprouts

White miso, pomegranate

$9.75

Nashville Hot Cauliflower

Crispy fried, city tap hot sauce, ranch

$10.75

Elote "Street Corn" Dip

Jalapeños, chili powder, cotija, cilantro, chips

$9.75

Hummus

Olive pepper relish, flatbread, olive oil, lemon

$9.75

Seared Ahi Tuna*

Asian BBQ sauce, mandarins, miso aioli, toasted sesame, scallions, cilantro

$15.25

BBQ'D Pulled Pork Nachos

Ranchero beans, nacho and colby jack cheeses, Mexican crema, cilantro, scallions, red onions, avocado mash

$13.75

Crab Mac N' Cheese

Fontina, herbed bred crumbs

$15.25

Arancini

Fresh tomato sauce, grated parmesan

$9.75

Ten Spice Wings

Blue cheese ranch, crisp vegetables

$14.25

Corn & Crab Hushpuppies

Citrus remoulade, honey-thyme butter

$14.25

Pretzels & Pimento

Southern pimento cheese spread, maple bourbon mustard, soft pretzel sticks

$11.50

Korean Short Rib Tacos

Kimchi, chili sauce, cilantro

$13.75
Mussels*
Pancho

Ground chorizo, tomatoes, poblano peppers, garlic

$16.75

Abigail

Roasted garlic butter, belgian ale broth

$16.75
Salads & Bowls
City Tap Chop

Bacon, blue cheese, olives, roasted tomatoes, croutons, crispy shallots, shaved onions, egg, white balsamic vinaigrette

$12.95

Italian Deli

Roasted & marinated tomatoes, kalamata olives, olives oil, romaine, red onions, pepperoni, prosciutto, cherry peppers, grilled focaccia bacon, red wine vinegar, grated parmesan

$12.95

Greens & Grains

baby kale, arugula, farro

$11.95

Caesar

Romaine hearts, parmesan crisp, garlic croutons, crispy shallots, classic dressing

$9.95

Delhi Chicken Bowl

Chopped chicken, curried farro salad, avocado, arugula, pickled onions, cilantro, roasted tomatoes

$16.95

East Side Poke Bowl*

Marinated tuna, farro, arugula, avocado, sesame, scallions, cilantro, pickled onions, miso sauce, sesame

$17.50

Beet & Goat Cheese Salad

Baby kale, arugula, orange segments, red beets, red onion, candied pecans, goat cheese, apple cider vinaigrette

$11.95

Grilled steak* $9

Shrimp $8

Avocado $2

Grilled chicken* $6

Tuna $9.50

Salmon $8.50
Brunch
Pecan Pie French Toast

Maple pecan sauce, whipped cream

$14.50

Avocado Toast

Mashed avocado, sunny-side up eggs, bacon, cotija, scallions

$13.75

Big Chick

Southern fried chicken breast, sausage gravy, smoky bacon, fried egg, buttermilk biscuit, house cut home fries

$15.25

Breakfast Quesadilla

Cheddar jack, scrambled eggs, black beans, poblano peppers, chipotle, cilantro, Mexican crema, avocado mash

$14.75

Chicken & Waffles

Maple syrup, red pepper jam, honey-thyme butter, ask for it Nashville hot!

$19.50

Brunch Shrimp & Grits

Prosciutto, white cheddar grits, cajun beurre blanc, ham hock braised collard greens, two sunny-side up eggs

$19.25

Brewers Breakfast

Two eggs any style, house cut home fries, bacon, kielbasa, buttermilk biscuit

$14.75

Hangover Pizza

Sausage gravy, provolone, house cut home fries, fried egg

$14.25

Garden Frittata

Caramelized onions, red bell peppers, cream cheese, cherry peppers, avocado, baby kale & grain salad

$13.50
Sandwiches
Fried Chicken Sandwich

Pickled green tomatoes, pimento cheese spread, shredded romaine, hand cut fries

$14.95

City Tap Cubano

Roasted pork, prosciutto, pickles, maple bourbon mustard, toasted on the grill with sourdough, provolone, hand cut fries

$14.75

Nashville Hot Chicken Sandwich

Pickles, lettuce, hand cut fries

$14.95

Veggie Burger

Wild rice, black bean & beet patty, aged cheddar, dijonnaise, roasted tomatoes, arugula, hand cut fries

$14

BBQ Meatloaf Sandwich

White cheddar, arugula, sunny-side up egg, cut fries

$15.25

Grilled Cheese & Tomato Soup

Grilled sourdough, American, cheddar & jack cheeses, house made tomato

$13.50

Bacon $2

Tomato $1

Avocado $2

Black Angus Tap Burger*

Brioche bun, American cheese, special sauce, lettuce, red onions, pickles

$15.50

Smoky bacon $2

Avocado $2

Fried egg* $1
Brick Oven Pizza
Logan Square

Grilled roasted cremini mushroom, goat cheese crema, provolone, red onion, rosemary, olive tapenade, roasted & marinated tomatoes, arugula, truffle oil

$14.75

Classic Margherita

Tomato sauce, fresh mozzarella, extra virgin olive oil, basil

$13.25

Pepperoni

Curly pepperoni, tomato sauce, mozzarella, oregano, chili flake

$14.75

Abe Froman

Fennel sausage, caramelized onions & peppers, provolone, mozzarella

$15

Four Fathers

Bacon, pepperoni, sausage, prosciutto, mozzarella, sliced red onions, cherry peppers

$16.50

The G.O.A.T

Sliced red onions, pistachio pesto, rosemary, truffle honey

$13.95
Desserts
Made fresh daily
Strawberry Waffle Tower

Macerated strawberries, mascarpone whipped cream, fresh Belgian waffle

$13.25

Chocolate Ganache Tart

Raspberry sauce, mascarpone whipped cream

$11

Key Lime Pie

The best you've ever had, guaranteed

$8

Cookie Dough Smash

Hot chocolate chip cookie with vanilla ice cream

$9
Sides
Toast

Wheat, brioche or biscuit served with honey thyme butter & jam

$3

Biscuits & Gravy

Sausage gravy, scallions

$7

Two Eggs Any Style

$3

Bacon

$4

Kielbasa

$4

House Cut Home Fries

$4
*Consuming raw or undercooked beef, pork, lamb, poultry, eggs and seafood may increase your chances of foodborne illness. Please inform us if anyone in your party has any food allergies or dietary restrictions.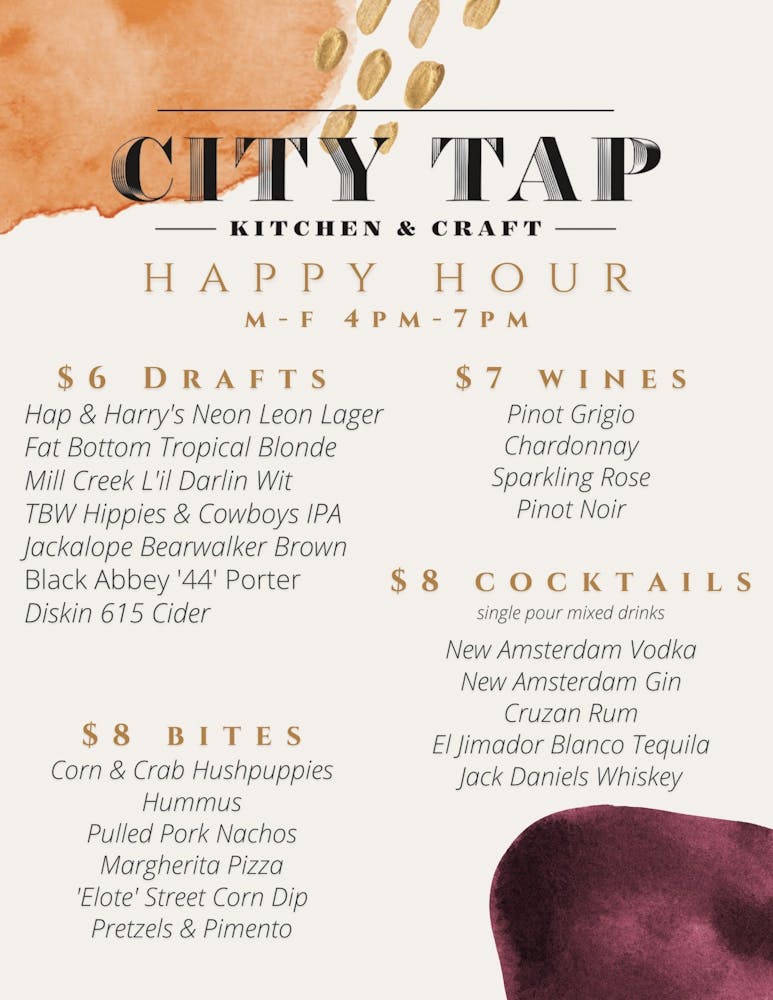 $8 Select Craft Cocktails
While we take care in preparing your food, because of the handcrafted nature of our menu items, the variety of procedures used in our kitchens, shared cooking and preparation areas and equipment and our reliance on our suppliers, we cannot make any guarantees of 100% gluten free items and disclaim liability for their consumption.
These items have been prepared with gluten free ingredients and preparations. Gluten free flatbread or buns will be substituted where applicable. We use gluten free soy sauce for all preparations requiring soy sauce.