25 Years of Avery Brewing Company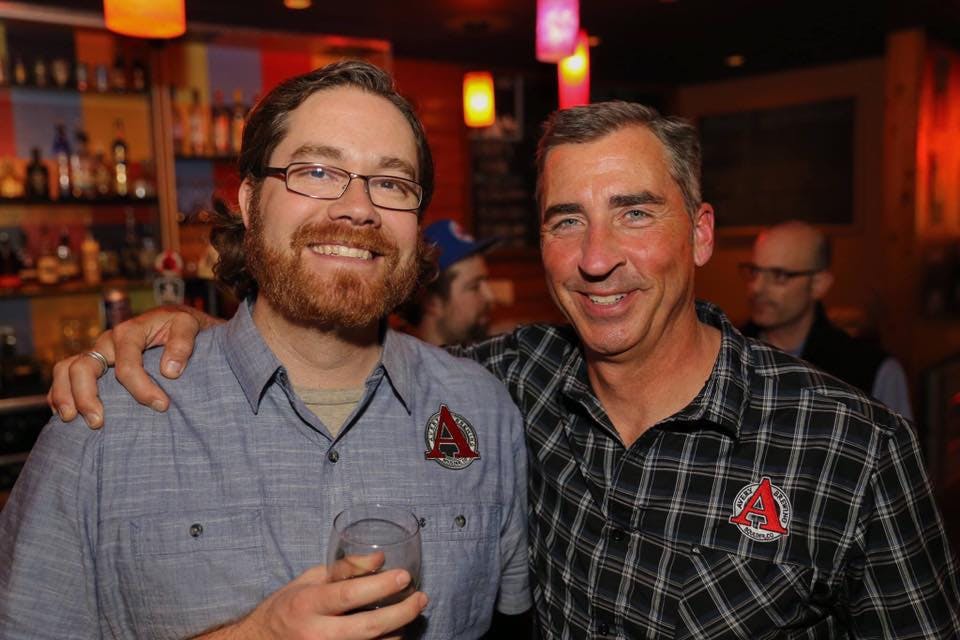 02.26.18
STEVE BURNS
From El Gose, to Out of Bounds Stout, to Hog Heaven and back again, Avery Brewing has successfully brewed and barreled its way into our sudsy hearts for 25 years. We're happy to say we contributed a few pints along the way. Since 1993 Adam Avery and his team have been on what Pennsylvania Sales Representative Cameron Saunders calls "a never-ending quest" for better, bigger, and more perfect beer. But isn't that every brewery's goal? Of course, it is. What makes Avery Brewing different is the difference can be measured. Adam Avery's approach to brewing is ceaselessly scientific and painfully precise. Saunders explains.
"[B]etter gadgets, bigger equipment. We have one of the best lab programs in the country. We have 6 full-time lab technicians and about the same size lab [as] a brewery doing ten times what we do. We basically have the same lab that New Belgium and Sierra Nevada have and they're astronomically bigger than we are. [Adam] is really into quality control."
Whether you're putting back a White Rascal in Colorado or Philadelphia, the quality is consistent.
"Every time you buy a White Rascal it's going to be the same. It's not going to have variations, it's not going to be infected. It's been tested 15 different times."
Guarding from infection is increasingly important since Avery also started making its own yeast.
""It starts with good equipment; it starts with passionate, educated, and trained employees in the brewery. Then there's the people in the laboratory who are checking things every step along the way. We also manage our own yeast now, which is a big deal for a brewery of our size. Most people still use a banking company and buy batches as they need it."
Avery Brewing owes its origin to Adam Avery and his father, Larry, who took a big risk and invested his entire retirement savings into his son's brewery. Adam loved beer, Larry always wanted to own a business. While the endeavor seemed simple, entrepreneurship does not come without its challenges, however. Avery was also going up against the beer giants. Cameron continues.
"[Adam] started with a 7 barrel system and a loan from his father, Mr. [Larry] Avery, at a time when craft beer was still fledgling. People still wanted Bud, Miller, and Coors. People weren't really vibing on what he was selling. It took a while to break through. He was hand delivering kegs after he had brewed beer in the morning. He did the accounting at night. Slowly but surely people started catching on, he grew the system little by little. There was a year, a 16/18 month period where it was looking kind of dicey."
Challenges often breed innovation. Adam Avery, on the cusp of failure, said, according to Cameron, "''Well if I'm going to go down I might as well go down making a beer I really want to drink.'" And thus, after fives years, Hog Heaven was born: a 9.2% boozer with a gorgeous dry-hopped nose that finishes caramel clean.
"It really helped save the brewery in essence," says Saunders. "They turned it around and here we are 20 years past that point."
In 2009 the brewery began flexing its beer muscles by launching their barrel-aging program. Heavy hitters like Sui Generis, Nuttiest Professor, and more would be born in Avery's gargantuan facility, one that rivals many of the largest brewers in the country.
"We have a top-ten barrel-aging brewery in terms of number of barrels and output; we have about 4,000 barrels in house right now; everything from rum, bourbon, tequila - any kind of spirit that was ever barrel-aged. It's a big undertaking. We have a 40,000 square foot facility that's just for barrel-aging. There's no cross-contamination with the yeasts that we use for our sour beers."
After 25 years of brewing (and the mass explosion of craft beer in the United States) Adam Avery is still brewing beer he wants to drink. Cameron points out that while craft beer is more competitive that ever, Adam and Avery Brewing don't really care about chasing trends.
"Avery's never been one to go with trends. Adam is trying to make a beer he really likes. He might not try to make the sexiest style of the moment, but the beer will be well made."
Just look at two of Avery's upcoming releases and it's easy to see Avery brews what it wants to brew. Bug Zapper and Go Play IPA are two set to hit taps this summer.
"Bug Zapper is a lime, ginger, and mint sour. We'll release that late spring as our summer seasonal. I'm really excited about that one - it's super refreshing. We have another beer called Go Play IPA which is a 5.5% IPA that has electrolytes in it. It has some salts in it to make it almost like a recovery IPA. It kind of goes back to the Colorado lifestyle. Adam is a rock climber and a cyclist so he wants something he can hydrate with. He wants to stay hydrated and he's always wanted to make a beer with some electrolytes in it. He's finally getting around to doing it."
As for what Cameron Saunders recommends from Avery's portfolio, his heart belongs to Apricot Sour.
"I would put Apricot Sour against any beer on Earth. It's just perfect. The stone fruit goes well with any sour; apricot has a little natural tartness. The funky yeast cultures there. It's super tart on one hand and yet it's balanced and not overly acidic. It's a perfect blend of getting a fruit flavor across with some funky and sour notes."
After over two decades of making beer, perhaps the lesson in Avery's journey is this: Brew the beer you want to drink in the world. Whether its a wild sour or sultry barrel-aged beauty, we're excited to see what arrives on our taps in the years to come. Cheers to Adam, Larry, Cameron and the rest of the Avery Brewing crew on 25 years.
Tomorrow we'll be tapping 25 of Avery Brewing's best beers in celebration of their 25th Anniversary. We're calling it 25 Beers for 25 Years. Adam Avery will be in attendance (and we really hope he jumps out of a giant cake). Visit our Facebook event page for complete details, including our draft and bottle offerings.