Crafting a Scene: Grateful Dead and Sierra Nevada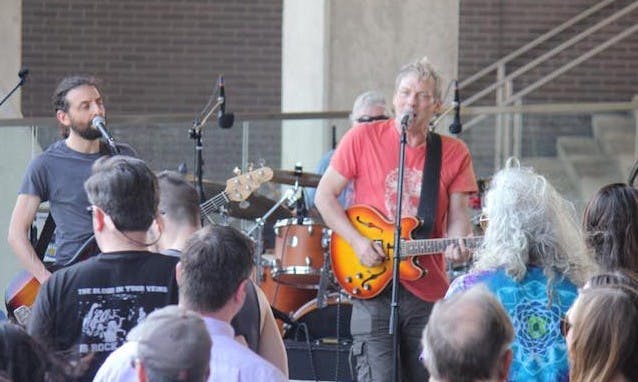 07.09.17

ANDY FARRELL AND STEVE BURNS
What do the Grateful Dead and Sierra Nevada have in common? Much more than you might expect. Before the craft beer renaissance of the mid-1980's and the eventual explosion of artisan ales in the late 2000's, craft beer found a stage by the stage. Or, more specifically, the street. Shakedown Street. Jambands like the Grateful Dead, Phish, Widespread Panic, and Moe garnered gargantuan followings. Thousands of fans would pack arenas and pavilions transforming shows into scenes that overflowed into parking lots. As musicians traveled from city to city, parking lots became nighttime venues; shared spaces and free markets for artists, dealers (the legal and not so legal kind), and, sure enough, craft beer.
This scene, casually known as the "lot scene" was counterculture, and bonded to the very idea of craft. From woodwork to ceramics, locally made patchwork skirts and hemp necklaces, the lot was a place that celebrated the non-mainstream, nurtured entirely by love, good times, and to quote Jerry Garcia, the Patron Saint of Shakedown Sreet, "Fun." Mr. Garcia's good vibrations eventually combined with the great libations of breweries like Sierra Nevada, whose ethos matched that of the lot — happiness & quality.
Every year at City Tap we pay tribute to the lot scene with our Shakedown Street Beer Festival. For 2017, our 4th Shakedown Street event, Splintered Sunlight (Grateful Dead), Ear Me Now (local reggae crew), and Steal Your Peach (Allman Brothers, Grateful Dead) joined forces to jam out all afternoon. Of course, beer was central to the experience. Andy Farrell, our Brand Director and lot scene vet (and a not-so-shy participant), sheds some light on how craft beer, rather than light beer, became essential to the lot scene.
"The beer of choice was not the 30 packs of light lager, but microbrew domestic and import choices. 'Vendors' still fill Igloo coolers full of Samuel Smith, Sierra Nevada and Anchor Steam bottles, selling one for $3 and two for $5, eking out small margins to pay for their city to city travel expenses or a ticket to that evening's show."
Thanks to the expansive audience (anywhere from 15,000 to 40,000 people per show) of jam bands, craft beer found an audience as well. This was viral marketing before the term "viral marketing" existed. Jason Stewart, Advanced Cicerone and former sales rep for PA's Wyndridge Farms credit the relationship between craft beer and the jam band scene to a mutual sense of artistic independence, craftsmanship, and camaraderie.
"I think for me it's a shared sense of adventure, being open to new ideas, building a sense of community, and especially being able to express one's own creativity while choosing their own destiny. There are a million ways to live your life through your art and every now and then some folks get lucky and actually find a way to earn a living through it. I think that's one of the many reasons there is so much overlap with these scenes. The community being the most important."
Community became the foundation for craft beer culture as we know it. As craft beer grew, many breweries took on "hippie" identities, naming their beers after songs and cultural references throughout the jam band community. Examples include Fat Head's Sunshine Daydream, Shakedown Imperial American Stout, and Jack Straw Pilsner. The impact of the lot scene is evident — and delicious. Geoff Stober, of Fat Head's Brewery, adds, "The greatest thing about craft beer and jam bands isn't the beer or the music, but the collection of vibrant personalities and genuine people that share the love for both and create an unmatched culture."
Terrence Sullivan, also at Sierra Nevada, was personally part of the jam band scene. It defined his very relationship with craft beer. Sullivan had his first Pale Ale and Celebration Ale "in the parking lot of the Oakland Coliseum back in 1983 or 1984." Jerry Garcia even enjoyed himself a Sierra Nevada Pale Ale. "[Later] [s]hortly after I started at Sierra," says Sullivan, "and holidays prior to Jerry's death, I supplied a ½ bbl of Pale Ale to the GD employee Christmas party for my friend who worked there…He says Jerry poured himself a pint and sat to talk to him. Made me proud."
Between pints and nights on the lot, ties between scenes emerged. Sullivan, we should mention, has an impressive resume sporting some 238 Grateful Dead shows and attending nearly 50 Jerry Band shows. That's dedication. For many, including Andy Farrell, the free-flowing, improvisational atmosphere of the lot became a gateway to craft beer.
"Over the 30 years of lot scene history, the dynamic between music and beer has turned thousands of young beer drinkers into craft enthusiasts, preaching quality over quantity, process over profit, and expression through craft. I am one of those. My introduction to craft came before a legal drinking age. Sierra Nevada Pale Ale and Samuel Smith Nut Brown Ale were like nothing I'd ever gotten my hands on before."
For us, Shakedown Street Beer Festival is a handwritten love letter, a tip of the hat the lot scene culture that has given us so much. Shakedown Street is about friends, new and old, embracing the groove and sipping well crafted beers from thoughtful brewers. It's about good ingredients and even better people. Perhaps Jason Stewart said it best: "Reach for a beer, glad that I'm here." Thank you to everyone who attended this year's Shakedown Street Beer Festival. We can't wait to do it all again.