Jack's Abby and The Lager Legacy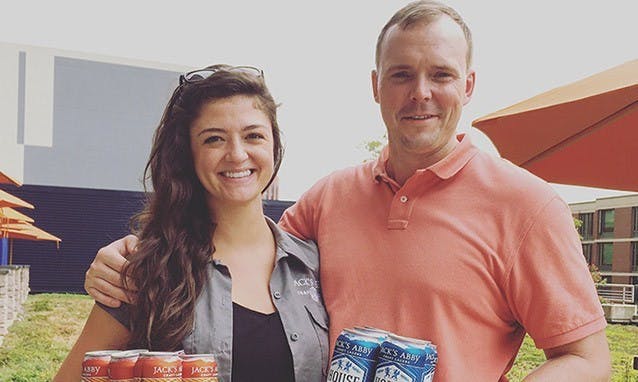 10.06.16
STEVE BURNS & ANDY FARRELL
Jack, Eric, and Sam Handler, the sons of an ice manufacturing and distribution entrepreneur, have carved out a cold, refreshing niche in the craft beer market with Jack's Abby, Boston's award-winning, lager-only brewery. While Jack's Abby is just five years young, their work ethic, ingenuity, and spirit go back a generation. At City Tap we are consistently amazed by the beginnings of breweries. Some start as small operations in abandoned mansions, others are inspired by trips across the ocean or, specifically, Germany. One fact remains: breweries are started by people who love beer. As Ben Warner, Director of Sales says, "We don't have any people who are experts." This is not to say Jack's Abby's lagers are not expertly crafted - because they absolutely are. Jack's Abby has perfected the lager through trial and error, experimentation, true fearlessness. Plus, we can't help but admire the men and woman crazy enough to brew lagers and only lagers. Andy Farrell and I interviewed Katie Tella, Jack's Abby's Philadelphia Representative and Ben Warner recently about the origins of Jack's Abby, their love of lagers, and why an Ice Bock should totally be a thing.
Steve: First things first, why lagers?
Katie: Jack studied in Munich for a while so he kind of fell in love with German standards and traditions and the beer hall atmosphere. We find that using the lager yeast allows everything else, the flavors and hops, to come out a lot cleaner, crisper, and brighter.
Ben: And then there's the more logical part of that. When we opened we had a pretty large brewhouse. We had a 20 barrel system, which lasted until the end of last year. Our smallest tanks were 40 barrels. That's a shitload of beer for somebody who's never sold beer before. We came to market originally in July 2011 with three very traditional German style lagers. Jack, Sam, and Eric [Hendler] wanted to brew something hoppy and, at the time, we could only cross off one yeast strain without being wasteful. So they brewed an India Pale Lager. It caught on immediately. It was interesting. There really weren't a whole lot of people stupid enough to pigeonhole themselves as a lager-only brewery.
Katie: [laughs]
Ben: It got us a little bit of press. We embraced it. Like Katie said, there's a reason we came to the market with lager and it kind of perpetuated itself as a lager-only brewery.
Steve: How do you combine the traditional German techniques with contemporary innovation? What is Jack's Abby bringing to the traditional style?
Katie: We like to say there's three branches of the beer: there's the traditional German style, our barrel-aging program, and then there's our hopped up lagers with an American twist. We just started doing a lot of sour lagers which I don't think anyone else is doing.
Andy: That's tremendous.
Katie: We do a lot of experimental stuff and it's been working.
Steve: What's the strangest beer you've had at Jack's Abby?
Katie: We had a test batch of a Barrel Aged Framinghammer. We added chocolate, orange peel, and spearmint. It was very strange. With the beerhall we have 24 of our beers on tap always so there's a lot of brewery-only stuff that never makes it outside. I had somebody do a raspberry-lime ricky lager.
Steve: I feel like there's this undercurrent of "let's bring the lager back" as if it died or something. I talked to somebody from Origilio who said that IPAs are always going to be the standard and there was this bump in the road with sours - where do you think lagers stand in terms of marketability? Will they remain steady or pop off?
Katie: I think they're going to emerge. People have made beers as hoppy as possible and as sour possible. We've reached a limit on that stuff. We're going more into the traditional styles. To really judge a brewery, if they're doing a lager and they're doing it well, that's the highest standard because there's nothing to hide behind. You can't just throw a bunch of hops at it.
Andy: It's gotta be clean, it's gotta be crisp.
Katie: As the market gets smarter and consumers gets smarter I think people are going to turn to different styles.
Steve: What do you think makes a good lager versus a not so good lager?
Ben: Clean, crisp...
Katie: Time and attention in the brewing process. With our House Lager it takes five weeks to prepare the mash. Most breweries that are doing a helles aren't doing all that. It's expensive and it takes more time.
Steve: I know Jack's Abby is a reference to Jack's wife, Abby, but is there any connection to "Jack and the Beanstalk"? Everything is green on the website and the font has this weird storytelling vibe. Is there any relationship at all?
Katie: [laughs] No, not that I know of.
Ben: There could be a beanstalk somewhere.
Steve: An abby is a house in which Jack from the story would live, right? I don't know, I think about that every time...
Katie: [laughs] I don't think anyone's ever said that.
Andy: We did a "Jack and the Beerstalk" event because I wanted to bring my kids to an event. Into the Woods just came out on DVD. I was like great they love the movie and I want to drink in the morning - let's do an event. I can't be the only one.
Ben: What more reason do you need?
Steve: [To Katie] How did you get into craft beer?
Katie: I went to school in Philly and I was actually a hostess at Varga Bar. That was my first restaurant job. Rich Colli trained me how to be in the industry. Then I moved home to Massachusetts for about a year and a half. My parent's house is about 15 minutes away from the brewery. At that time I had a corporate job at home and I was looking for some sort of fun social outlet and I started working as a brand ambassador nights and weekends doing tastings and festivals. That summer I started working in their taproom. Then Jack's Abby needed a Philly rep.
Steve: What was the first craft beer you liked?
Katie: I went through a big Golden Monkey phase [laughs]. In high school I was into Magic Hat #9. Until the beginning of college that was my jam. There was one time I came home for Christmas and my Dad had a case of Jack's Abby in the fridge. He was like 'There's this new brewery. They have this beer called Framingham. You have to try it!' I was like, 'Ew lagers, I hate lagers!' It was a case of Jabby Brau, which was one of our core beers, and it wasn't bad!
Steve: What's it like being a beer rep in Philly?
Katie: It's a lot of fun. It's very competitive. Especially in Center City. There's only so much shelf space and only so many lines. There are lots of beer reps in the city. I remember going to my first Philly Beer Week meeting last year. It was the big planning one where all the reps were supposed to come out and I walked in like, 'Holy crap there are a lot of beer reps in this city.' There's the ones you see everywhere and ones I've never seen before.
It's a lot of work, but it's a lot of fun. It's a tight knit community. We all kind of work together even though it's competitive.
Andy: I've heard time and time again at CBC [Craft Brewers Conference] - even when I'm in DC or Florida - that the reputation that Philly has among its beer reps is so familial and supportive that it's almost shocking to reps from outside the region. They come here like, 'What do you mean she's from Great Lakes and he's from Dogfish Head? It's completely random. Everybody kind of falls in line and helps each other and shows up at each other's events. It's nice being on the bar side of it because you know you're going to get a couple people out to support it. The beer reps tend to be loud and bring good energy to the room. That's what you want in a bar.
Steve: Craft beer is pretty male-dominated. Does that make it more difficult?
Katie: Not in Philly. There are so many female reps in Philly. I think there are more female reps in Philly than male. Again, that's another side of being a supportive community. I'm member of Pink Boots Society, which is a female run female support group for women in the beer industry. They host monthly meetings and events where everyone gives each other feedback on navigating through the industry.
SB: What do you think Jack's Abby is doing that no one else is doing in the industry?
Katie: Aside from only doing lagers? [laughs]
Ben: Nothing. People have been brewing for thousands of years. Just about everything's been done. We're just doing it our way. It's the people, it's the brewery, it's how people come together to make things happen. What's really unique about Jack's Abby is the boys who own the brewery; they grew up in an ice packaging business. I had never been around an entrepreneurial spirit before joining Jack's Abby. In my prior life I was doing social work...
Andy: You still are!
Ben: [laughs] Just with beer! It's completely unintentional, to have that at the helm, the entrepreneurial spirit. You have intelligence, but [we've] never brewed to this scale before, sold to this scale before. Sam, who oversees all of sales, is selling beer having never sold beer before. It's a lot new things. Coming into the Philly market, learning, being flexible - that's what we do with everything. We do everything with our ears open, with our eyes open. If it works, it works; if it doesn't we're going to find a way to make it work better. We don't have any people who are experts.
Katie: Besides Herb.
Ben: Besides Herb. He's the glue in between everything. He's the brewery manager. Just figuring it out, doing it, making it happen, changing - trying to have a good time. It's all driven by hard work and will. It's not always fun, it's not always easy, but it always feels good at the end of the day.
Steve: Could you talk a little bit about the origins of the brewery itself?
Katie: Jack was in school for Art History. He was going to go into the ice business and he got a call from his Dad that they were selling the company, or somebody was buying them out, so he was like, 'Crap, now what am I gonna do?' That was his whole plan. Jack went to Germany with his Mom; they went to a beer garden. He had applied to work at Boston Beer Works at Canal St. His Mom made him call to make sure he got the interview while he was sitting in the German beer hall because he wasn't gonna; he wasn't gonna fly back when he got the news that they wanted to interview him. His Mom was like, 'No, Jack you have to fly back.' So Jack started working for them and he went to brewing school after that.
Ben: When I think of origins, I go back to their grandfather who started an ice manufacturing and distribution business. Jack, Sam, and Eric's father and their uncle took over that ice distribution and manufacturing business. The boys watched that happen. You know that every single meal, every single trip to the grocery store, every single anything revolved around that ice business. Building it, making it work. They were based in Westchester County, New York. That's where the brewery was born. It was born in the spirit of being an entrepreneur and having your own family business. Like Katie said, when Jack found out he was a senior in college probably drinking beer, he ended up going to clean kegs in Brooklyn for the summer before going to Germany with his mother. Although beer is much more exciting, they still seem to get excited by ice [laughs].
Steve: Maybe you guys need an ice themed beer.
Ben: An Ice Bock?
Katie: Yeah, that should probably happen.
Steve: Ice Block?
Ben: The problem with that is you need a distiller's license in Massachusetts.
Andy: Oh, because of the ABV. Interesting. Take a trip over to Germany and collaborate with Schneider or somebody and do one.
Ben: Do some beer schnapps.
Andy: Yeah, do it that way!
Ben: Next project!
Steve: So, for somebody just starting with craft beer, how would you recommend them entering the world of Jack's Abby?
Katie and Ben: House Lager.
Katie: We have our hoppy stuff, we have Smoke and Dagger, you gotta try 'em all.
Stop by City Tap University City and City Tap Logan Square every Sunday to enjoy 6 Jack's Abby lagers for $25 - just in time for the football season! Learn more about Jack's Abby's beers and events online.