Nano to Micro: St. Benjamin Brewing Company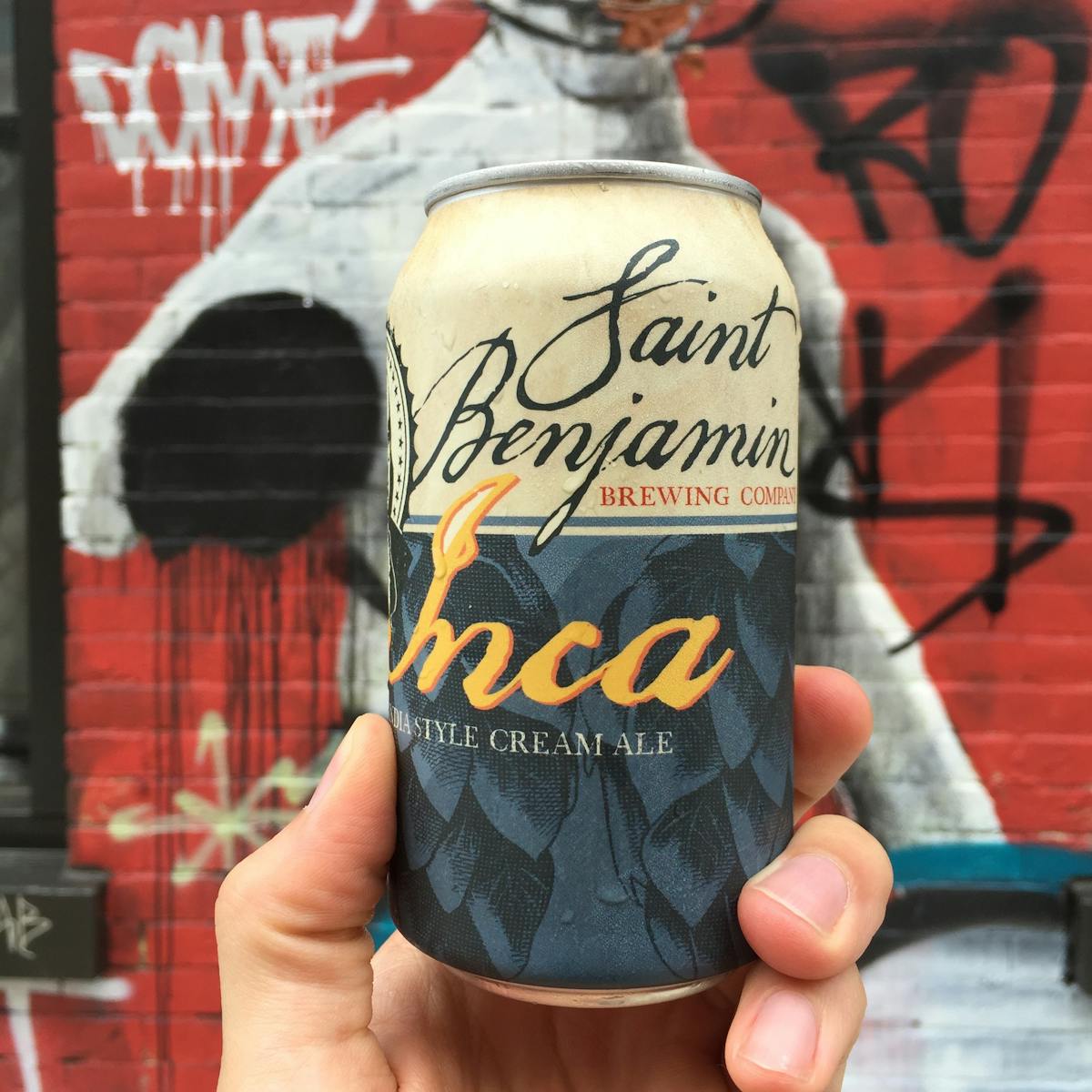 07.06.16
STEVE BURNS & BRYAN MOODY
You could still smell the hay. Saint Benjamin Brewing Company was once a carriage house and a sprawling home for horses. Jackie Cusack, the brewery's Sales Representative, brought Bryan and I through several floors of the dusty, almost mystical, brick building. The steps that carried us up ran parallel with a stone horse ramp used to lead the horses to the second floor. 14 inches of concrete and steel held the structure was under our feet. Sunlight passed through large, thinly framed warehouse windows facing the street. The walls were ripe with history; far below, 9 fermenters churned fresh beer.
The plan, says Jackie, is to eventually expand the brewing operation to the second floor. The enormous possibility of the building was tangible. It was beautiful. For now, however, Jackie, and Tim Patton, the founder of the St. Benjamin, were busy maintaining their brand new kitchen, taproom, and a significantly upgraded brewing system. Tim credits his inspiration and craft beer finesse to years of home brewing. Experimenting with brewing techniques and ingredients urged him to leave his job as a software developer behind. Judging by the immense transition St. Benjamin has made in recent months, it was clearly the right decision.
Barrel for barrel though, craft brewing in Philadelphia is competitive. Our city is packed with innovative breweries and intelligent drinkers. According to Tim, St. Benjamin brewed 435 barrels last year. This year's goal is a striking 3,000 barrels. Our question: What can starting as a nano-brewery teach brewers about the business of brewing and the craft? It's time to flex that micro-brew muscle. The answer in our interview below.
CTH: Could you talk a little bit about the origin of the brewery and how things have changed since your recent expansion?
Tim: It was weird. I got everything I wished for. I got a cool old brick building in South Kensington. It turns out it has a romantic history as part of an old brewery [i.e. Theo Finkenauer Brewery]. It started as a carriage house and stable. The carriages were mostly stored down here [the taproom]. The horse stables were upstairs. Their support beams are up there. There's all this crazy concrete and steel.
We want [the taproom] to be a meeting space. If any of the neighborhood groups want to use this spot to have meetings or small gatherings — we want to do that. We want the taproom to look like a neighborhood bar that people would go into on a regular basis as a opposed to your once a month trip to the brewery.
I had been looking for probably 10 or 11 months and my real estate agent showed me the listing for this place. I locked it down as soon as possible. I was like, "If I don't buy this someone will turn it into condos." I knew no one would knock this over because I don't think anyone could afford to. It looked like it should be a brewery. When the building came up it was one of the easiest decisions I've ever made for the company. It was a no brainer. Being three stories was a little quirky, but I think we'll be able to work with it.
As for the change of going from a nano to a micro brewery. We brought on more people. We were working with one brewery through the fall on our old system. Now we have an assistant brewer and an intern — both of them are practically full time. We also ramped up our sales force. One of our reps is leaving; he's moving out of the area. We're going to be replacing him with two people. I hate the saying, but it's true. It was like, "Go big or go home." We were running a very small business that wasn't really making a lot of money and wasn't really losing a lot of money.
CTH: Just staying steady?
Tim: Yeah, and there was no future in running it that way. I'd always known that the nano-brewery was a temporary thing. Basically, what this [expansion] involved was a big leap, more risk. I had to bring on so many additional people. I would say overall, beer wise, this transition has been amazing. This new system blows away the old one. It makes brewing good beer so much easier. We gave Andrew Foss, our head brewer, a lot of latitude to make changes to the beer, to make suggestions, and really run the brewhouse entirely how he wanted to. He's a very smart, very resourceful person. He was trained by Scott Morrison. We really came into our own when we got the new setup.
CTH: Is there anything you learned as a nano-brewery that you can apply now?
Tim: There are a lot of things we took chances on with our small system because they weren't as much of a financial or marketing risk. Because we're new, we would not have had the confidence to do them right away. If we're making three barrels of something, we'd all sit down and say, '"You know, we can give that a try. We can do a small batch of that." Had we we started with a 15 barrel system and had it been me coming in as an outsider to the industry, coming in as a homebrewer, it probably would have been a little more of a risk at first. All the sudden I'd have several thousand dollars per batch on the line.
Now, though, because we've done so well with some of those original ideas we've maintained that sort of experimental quality. We know we could brew on the old system and the old system was harder to work with than the new system. We're a lot more confident and we know we can execute it because we have. For instance, we're getting into starting our first sour. We didn't want to touch that on the old setup. We wanted to make sure we really had our quality control standards very high.
Jackie: When we had the three barrel system we had seven year-round beers. It was easy to do that. We realized it wouldn't be easy to have seven year round beers at such a large quantity. We really sat down and looked at our market to see who was buying our beer. By understanding them, it made much more sense. We want to do this crazy saison aged in red oak barrels. The sales reps and I know where this is going to sell. I know where a good portion of our Yardarm is going to sell. By doing small batches of things we were able to learn the market and who wanted which kinds of beers.
Tim: Our path with me [starting] as a homebrewer, then [moving to] a very small nano-brewery, then a microbrewery — that meant that by the time we had more beer to sell we also had a good reputation. People already knew about us. We weren't coming into the market with a lot of things to sell and people being like, "Well, who are you?" That lowered the risk. If we started bigger, we would have to hit sales and marketing hard from day one. It would not have been the grassroots thing that was built.
CTH: How many barrels do you plan on producing per year? How many tanks do you have now?
Tim: Right now we have 9 fermenters. Last year we brewed 435 barrels. I think we're going to end up somewhere around 3,000 barrels this year.