Phat Life: What Does a Fat Head's Beer Rep Do?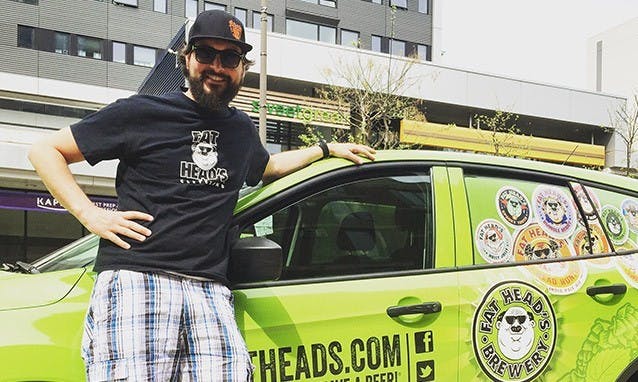 05.05.16
STEVE BURNS
In the immense, boozy wake of Philadelphia's 2016 Craft Brewer's Conference I caught up with Justin Knosp, a member of Fat Head's "Hop Squad." I met him in sunglasses (Goggle Fogger, anyone?), khaki shorts, and a black Fat Head's tee and baseball cap. Anyone who's not a beer buff might assume Knosp is just an ordinary dude, which he is. He's also charming, cordial, and the captain of Fat Head's green machine (pictured above). Simply put, he's a Beer Representative and a damn good one at that. But what does a Beer Rep do? In a market like Philadelphia, which is overflowing with incredible craft beer, getting your brewery's beer on tap can be challenging. With thousands of drinkers flocking to Philly's bars for the crème de la crème of craft, how does a single Beer Rep stay afloat?
Day to day, Knosp makes sales calls, reminds bars that new beer is on the way, pitches events, and builds an assortment of promotions to push Fat Head's lineup. Quite simply, he's "trying to get the beer in people's mouths." This isn't terribly hard to do considering the rich, albeit brief, history of Fat Head's Brewery. Since Fat Head's debuted their first beer in 2008 with the help of Rogue, they've been decorated with a slew of awards including medals from the World Beer Cup, the Great American Beer Festival, Draft Magazine, the National IPA Challenge, and more. Despite all the praise, they haven't gotten big-headed about it.
"At the end of the day," says Knosp, "it's just beer. I'm very thankful and lucky to be where I'm at right now. Even if I have a bad day, I can't be mad."
Before jumping on board with Fat Head's, Knosp worked with a beer distributor while studying Health and History at West Chester University. Afterwards, he worked at Muller Inc for two years, a large beer wholesaler, where he sharpened his craft beer chops. Ending up with Fat Head's, however:
"It sort of fell in my lap. I liked drinking beer in college. I didn't think of beer as a career. When I started looking at wholesalers I realized there was more than talking about beer with college kids. The first beer that turned me onto 'craft' was Sierra Nevada Torpedo and Lagunitas Little Sumpin Sumpin. I had those and knew there was something happening with the whole craft beer movement. I tried Fat Head's three years ago when I was working with Muller. It was Sunshine [Daydream]. Immediately I fell in love. At this point Fat Head's was pretty much brand new."
Fat Head's fast success and staying power in an incredibly fluid craft beer scene is rare. In a brief amount of time Fat Head's has managed to collect a case of medals, open several brewpubs, and land in the City of Brotherly Love. Knosp elaborates.
"Glen [Benigni] started the Fat Head's Saloon in Pittsburgh in 1992. It was just a restaurant. Roguebrewed our first beer for us. The logo was Glen's brainchild. In 2008 Matt Cole approached Glen about starting a brewpub. In 2009 they opened up a brewpub in North Olmstead, Ohio, which is where Head Hunter was first brewed. A few months later Matt sent one of the kegs out to California for the West Coast IPA Championship and we ended up medaling. That was in the first four months of us brewing beer. In 2012 we started our production brewery in Middleburg Heights, right outside of Cleveland. We also have another pub in Portland, Oregon, which opened in 2014. Just this year we opened up in Philadelphia."
Knosp estimates Fat Head's will sell about 36,000 barrels this year. For a growing brewery, that's huge. "Head Hunter," he says, "is crushing it in this market." Considering the history of this crisp, golden, and masterfully hopped IPA, it's no surprise. The demand for beer, however, is never-ending. Only having so much beer means Knosp has to be selective about where his kegs end up. For this year's Craft Brewer's Conference, Knosp had a plan.
"I tried to place our events pretty strategically throughout town so we could reach as many people as possible. Breweries, owners, they want to see where everyone goes to drink, to eat. They want to see the Philadelphia beer scene. That was my main focus — to get my beer in bars that were going to be busy regardless of the event."
Knosp has been involved with Fat Head's since November, but he's launched five other breweries in the Philadelphia market: Deschutes, Captain Lawrence, Two Roads, Sweetwater, and Boulevard. That's a hefty resume. With so much experience under his belt, Knosp understands how to maintain a brand's presence despite Philly's dynamic marketplace where, often times, many breweries disappear.
"If you don't have someone with their feet on the ground in this market, you could lose relevance very quickly. People could forget about you. Once that happens," he warns, "it's difficult to become a strong presence again. I've seen it happen, but it's tough." Thankfully, Fat Head's has managed to "set itself apart from many breweries that have come and gone."
Is the secret, then, to being a successful Beer Rep in Philly simply being present — at the bar, at the festivals, concerts, special tappings, and conferences? Knosp believes that something more than suds and rare casks keeps him going.
"There's so many Beer Reps, there's so much beer to be sold. At the end of the day, we're all in this together. We become friends. For me that was a major aspect of staying in this industry. If we didn't have that camaraderie, I wouldn't still be doing what I'm doing. That means a lot to me."
When it comes to Fat Head's specifically, Knosp points to a connection that goes beyond camaraderie. He says, "As small as we are, we're like a family. We all take care of each other. If there's anything I need I know I can call Sara [Cleary] or Geoff [Stober] in Cincinnati. I can go right to them."
Among so many beers and tap rooms, it seems to be a simple family-like structure that keeps Fat Head's chugging, one keg at a time. Meeting Knosp, sharing a spot with him on a picnic table in University City on a warm April afternoon, I could certainly feel the joy in his eyes — even behind his sunglasses. He likes to keep things simple. That goes for his beer too.
"I'm a hophead. I like a well-balanced beer, not something that's going to overwhelm the palette. I don't want a beer that will make me fall over. It doesn't have to have all these experimental hops or random numbers. Just give me a damn good beer."
For more on Fat Head's visit them online. To connect with Justin Knosp, find him on Twitter @fatheadsphilly.