Pliny the Younger. Worth the Hype? You Bet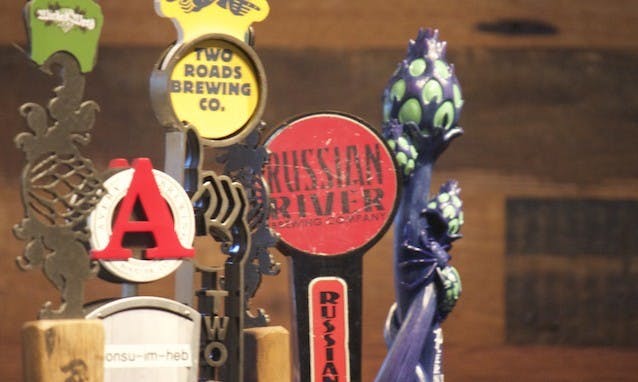 03.13.18
STEVE BURNS
Russian River Brewing Company, located Santa Rosa, California, are the creators of what many claim to be the most sought after IPA in craft beer: Pliny the Younger. Every year, in early February, hundreds of eager drinkers wait outside Russian River's pub in hopes of tasting 10 ounces of clean, gorgeously hopped Double IPA glory. This year's batch boasts a perfectly balanced bombshell of hop varietals including Simcoe, Warrior, Chinook, Centennial, Amarillo, Azacca, Idaho 7, Crystal and Tomahawk. Almost as quickly as it arrives, Pliny the Younger disappears.
But what about drinkers who can't fly out to the Golden State on a whim?
That's where we come in. City Tap is one of a handful of bars who receive Pliny the Younger every year. As early as 5 am, drinkers from Pennsylvania, New Jersey, New York, Connecticut and beyond gather by outside our bar, golden ticket in hand, waiting for their pour of Pliny. This year I decided to speak some of Pliny fans and ask them, among other things, "Why is Pliny the Younger such a big deal? Is it worth all the hype?"
Maria & Brian from Central New Jersey
Maria, a music teacher, was a first time Pliny drinker.
"I haven't had it before. I've heard a lot of the hype. I love IPAs. Here I am."
I asked her if it worth the hype.
"Absolutely," she said.
Brian, a third-time Pliny drinker, spoke to the reputation of Pliny within the history of craft beer.
"It's a trailblazer. I think it's one of the first [beers] that everybody went, 'Whoa, you can do this with hops?' It's something you can't usually get. We like what we can't get. They only make it once a year. Again, it's a trailblazer. Are there better beers than this now? Probably. However, it's historically the beer that made us say, 'Have you had a Pliny the Younger?' A double or triple IPA wasn't thought of 15 or 20 years ago. This is one of the beers that did it."
"It set the standard," adds Maria. "It's complex, but it's clear and balanced."
"It defines the style," says Brian. "There would be no other beers without this one."
Kevin from Bensalem PA
Kevin is not only a veteran bartender, but he's also been to Russian River (plus, he's one of our own). Has anyone had more Pliny than him? Maybe not.
"I've probably has Pliny ten times in the last five years. We live in a city where we're so lucky to get so many kegs of it. My neighborhood bar will get one and then Monk's of course, who started the whole trend, will get one. Then we get one. Got my golden ticket here - these are beautiful."
What makes Pliny the Younger so special?
"The fact that it's brewed fresh every year and then it's sent out here a week, maybe ten days after it's brewed. This one's drinkin' at 11%, coming from one of the best breweries in the world, Russian River, a name that people know. That's what makes it so great. They've never made a bad beer."
But is it worth the hype?
"I do believe it is worth the hype. People wait, and wait, and wait. It's always this February, March time of year where we get the fresh hops that are ready to be brewed after harvest season. It's great."
Kevin, however, is perhaps a bit more grounded than other Pliny fans. Would he leave Philly in search of Pliny if it wasn't available?
"I would never travel to go get it. [laughs]"
Fair enough.
Steve from North Jersey
Steve is a 6 year Pliny the Younger diehard. He knows beer and his motivation is simple:
"I've been to Russian River. I've been out to Firestone Walker every year for their festival. We did Monk's yesterday for [Pliny the] Elder and Blind Pig - I like that one the best. Pliny is the king right now. Everything now is the hazy stuff. It's not clear or straightforward [like Pliny]. City Tap is the best place to come. I've been to the City Tap in Washington D.C., Boston. It's a great spot."
Jenna and Danielle from Philly
Jenna and Danielle were easily two of the most knowledgable beer people I've ever met. They've had Pliny before, but enjoying it at City Tap feels different.
"Knowing it was here at Tap House made me more excited," says Jenna. "I think you guys do it right. I don't love having to wait to get tickets and come back another day. The beer is amazing."
Danielle has had Pliny several times.
"It's worth the hype, you don't taste the ABV at all. It tastes like a lighter-bodied beer with this really great note-hop on it without killing your palate."
Jenna jumps in to talk flavor and how, despite getting older, Pliny is still desirable among craft beer drinkers.
"It's not a super dank, palate-killing bitter. If you think about the last 5 plus years of IPA drinking in America the flavor profiles have changed so much - from the West Coast style high IBUs to the hazy fruity beers. It's still worth chasing. It's still a beer people are about even though there are different kinds of IPAs."
"It's the kind of beer I could really drink all day, although the ABV would eventually catch up to me," says Danielle. "When they run out, I can still enjoy another beer too."
Sounds good to us.
Thank you to Maria, Brian, Kevin, Steve, Jenna, and Danielle for joining us for this year's Pliny the Younger launch. It wouldn't be the same without you. Drink on, friends. Learn more about Pliny the Younger, Blind Pig, and more over at Russian River Brewing Company.