Trendsetting: Sweat, Hops, & Sculpin: Our Interview with Colby Chandler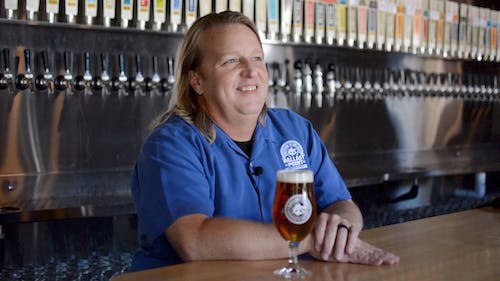 02.12.18
STEVEN BURNS
If you drink craft beer, you've had Ballast Point Sculpin. The bottle's artwork, a spiky, wide-headed sculpin fish (also known as a sea scorpion, fun fact) situated in a shallow pool is synonymous with quality, consistency, and oh-so-bright mouthfuls of West Coast fruit. If you asked the Vice President of Ballast Point Brewery, Colby Chandler, to name that fruit (hint: we did), he'd say it's a lot like the "rotten passionfruit" you'll find strewn about the bike trails of Hawaii. Unlike other beers of the 90's, Sculpin ditched Cascade and Centennial hops for sunny, bright, and tropical Amarillo and Simcoe hops. For many Sculpin became a gateway beer for drinkers who found IPAs too harsh or dirty on the palate. The hops brewers use not only determine what you taste in the glass, but the direction and tempo of the craft beer market itself. Colby Chandler was kind enough to talk with us about Sculpin, hops, and (dare we say) how Ballast Point became one of the North America's foundational craft breweries.
But first some history.
CC: "Ballast Point is a little point off Point Loma where the Spaniards first landed at the entrance of the San Diego harbor. As settlers started coming in San Diego they would bring over full wooden boats of supplies, but didn't have [enough] weight to give the boat ballast on the way back so they'd fill up with all these cobblestones from Ballast Point to weigh down the boats and give them balance to sale back around again. Eventually San Diego harbor became one of the largest tuna capitals in the world. It was lined with canning factories all around San Diego Harbor. It's now one of the best sports fisherman places. It's one of the biggest Navy ports in the world. All of those things kind of dictate the story behind Ballast Point."
CTH: What's your technical background? Did you study science at university?
CC: "No, I basically went to Home Brew Mart University. One of the side-deals for me becoming a brewer was I also had to become a general manager of the home brew store. I basically had tons of hands-on experience. I read every single piece of literature that would come through the door. And once the brewery had a little bit of money for marketing and education I attended as many Craft Brewer's Conferences as I could with the Brewer's Association. Those things started giving me the education I needed. I came from Ruth Chris's Steakhouse, I was a corporate trainer there, so I had kind of learned my palate on wine and learned my skills homebrewing.
I'd bet 80-85% of the brewers in San Diego either got their first home brew kit at Home Brew Mart or we helped with their Home Brew club, or they were a customer there. Last year we celebrated the 25th anniversary of Home Brew Mart. We brought back seven former employees who are now brewers or brewery owners. We did collaborations with them and there's probably another five years of those collaborations if we really wanted to. Home Brew Mart has really influenced the San Diego beer scene, if not the national and international brewing scene."
CTH: In an interview with New School Beer, you described Sculpin as "a fruit stand inside of a sweaty locker room." Could you explain?
CC: "That really describes the two hops who are the star of the show in Sculpin. Amarillo, being super tangerine or a sweeter orange and then Simcoe is the big dank one, almost like cat piss. I spend a lot of time in Hawaii mountain biking and it's sort of like the rotten passionfruit that you get on the trail: kind of sweaty, kind of overripe tropical fruit is what Simcoe brings to the show. That's why you get that fruit stand in the locker room kind of aroma to it. I think Sculpin was one of the first IPAs to showcase tropical notes and fruitiness rather than the tradition orange and pine; the Cascade and Centennial and other 90's hops."
CTH: Do you consider Sculpin to be a 'foundational' beer in the same way Sierra Nevada and Stone IPA are?
CC: "I've been told that. I don't like to say it out loud. I'd like to be a little more humble than that. The beauty behind Sculpin is its approachability. It doesn't drink like a 7% IPA. I think 'brightness' is my favorite adjective to use with Sculpin. We get a lot of sun in San Diego so brightness works on a lot of different levels. It doesn't have a lot of residual sugar; it's not overly sweet so we don't have to put in a stringent hops to get them up to a level that you're thirsty drinking it where it's a nice, pleasant bitterness. The low cohumulone in those hops kind of add to a soft bitterness so it's not ultra sharp. I loved when people came into the tasting bar at Home Brew Mart in the early days (Sculpin was first brewed in 2005) and I'd go, 'We have some great IPAS' and they'd say, 'I hate IPAS.' Of course we'd have something for them other than IPAs. Eventually I'd sneak in a little sample of Sculpin. 'Here smell this.' They'd get those big tropical notes jumping out of the glass, the color's not too dark. They'd be like, 'Oh, this smells really good' and they'd taste it and say, 'Wow there's a lot of flavor there.' Hey, you like IPAs. You found an IPA that you like. We won a couple awards with Sculpin in the International Pale Ale category, which is the lower IBU, lower percentage. That's the beauty of Sculpin, that's why it has become so popular and why it's one of those foundational IPAs. Experienced IPA drinkers love the balance and consistency of it. We test that beer 300 times - from the grain coming in until it goes out for delivery. The quality and consistency over the years has remained intact and ultimately gives you value. You know what you're getting every single time."
CTH: Breweries tend to highlight particular hop varietals over others in their brewing processes. Are we moving towards a hop-centric beer industry?
"I think it's going to keep evolving. It's been that way for a decade and a half. The hop-breeding program back in the day was archaic. It would take them 8 or 9 years to put out a new hop. Whereas now there's trademarked hops; Simcoe and Amarillo are both trademarked hops; they're owned by a specific farmer and he only lets certain farmers grow those particular varietals. There's a lot more varietals available now and if you want to have a different taste in your IPA then obviously hops are the first thing you're attacking. If you get a new varietal and get something ahead of everybody, that's going to be an advantage for you. I think the trends are coming back to malty beers; we're seeing it with the fruity beers, the pilsners that are out there. These are all 90's trends. Roses were called White Zinfandels in the 90's. Then there are all the craft cocktails. You're seeing that pendulum swing back.
Malting has this little boom going on that nobody's attention to. [There are] family run, local maltsters. [I]f you can get a particular malt that's interesting that'll give you a heads up the same way a new hop varietal would. And then there's yeast. There's three or four different yeast banks now weren't around 15 years ago. Yeast is 80% of the flavor in beer. Hops are the gateway drug for most people opening up a brewery and trying to distinguish themselves from others. As these breweries start to mature like we have over the last 20 years they'll start to look at the other three ingredients to set themselves apart. The hops aren't going anywhere. IPAs aren't going anywhere."
Thank you again to Colby Chandler for chatting with us. Be sure to find Ballast Point at a City Tap location near you. To learn more about Ballast Point's portfolio and new releases, visit http://www.ballastpoint.com.